I saw this article in AZCentral which asked what renters need to earn in Phoenix in order to live here.
Y'all know that I've been critical of the number of apartment units that have been going up in Central Phoenix, as well as the fact that they are priced way above what is affordable here.
But, here's the next question: What do these same renters need to earn in order to purchase?
Of course you would expect a realtor to ask that. We all just want to get everybody to buy a home, right?
Wrong.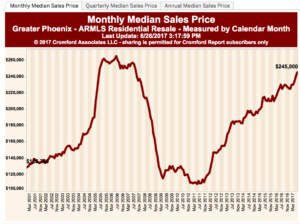 I don't actually believe that everybody need to purchase a home. However, the last I checked (about two years ago) there was a 6-to-1 ratio of apartments being planned downtown to owner occupied homes being considered. Those apartments have since been built.
While home ownership is not for everyone, I do think those numbers are way off.
But, I digress.
This article addressed what millennials need to save in order to purchase a home. The article is terribly misleading because it assumes that they need to save 20% of the median home price (about $27,000) to buy. So, it predicts that it will take them 13 years to save that.
Near the end of the article, they admitted that people can still get FHA and Conventional loans for 5% down, and under. But, very, very few people actually purchase with 20% down. So, why start the article on such a misleading point?
Oops. I digressed again.
The reason I asked what that same apartment renter needs to purchase a home is because I know that apartment companies are charging much more than what these folks would pay to own a home, if only they had good credit and down payment.
In other words, renters pay a premium for living space (more than owners) when they don't have good credit and funds to purchase a home.
So, the question to be answered is what is the real minimum income that a person would need to make in order to purchase a home in Phoenix?
The answer, of course, depends on where in Phoenix they purchase and how much they have to put down.
Let's assume they are making just enough to afford the county-wide median home, at $245,000. Let's assume they bring the minimum down payment for FHA at 3.5% and that they have just enough to cover closing costs. Let's also assume about $8,600 for down payment an another $4,500 for closing costs.
That $245,000 home (assuming no HOA fees) will cost you about $1,500 per month, depending on property taxes. I think that many, if not all of the apartments downtown cost more than per month that AND are probably smaller.
Just a disclaimer: I'm not a lender. So, this is just an illustration. If you are thinking of buying a home, I can share some leads for you of great lenders.
So, what is a minimum of that renter needs to earn in order to purchase? According to my calculations, about $40,000. Again, I could be off, so talk to a lender. But, my point is that home ownership is much more attainable than many think –and that's where the apartment builders get you!
If you are thinking about purchasing a home, please call us first at 602-456-9388.