Donna Reiner, a local historian and a good friend of Get Your PHX, has written many articles over the years for the Arizona Republic and others about what came before us. We use her services when we list properties of historic significance to help us tell the stories behind the homes.
We are happy that Donna is allowing us to re-publish some of her articles on a monthly basis. If you or your business ever needs a historian, let Donna know at laydeescholar@hotmail.com.
---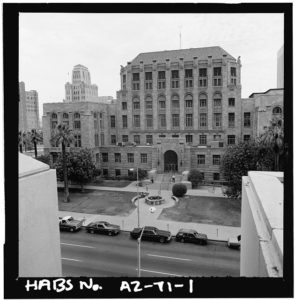 One of the basics we learned at an early age is to share. Share our toys and games, share our room/space, and maybe even share our clothes. But….it may not have been easy,.
A delicate balance between the needs and wants of city and county governments seems to exist in many areas. But sharing a building? How much and in what form will or could it take place? At one time, the Arizona territorial government shared the upper floor of the first Phoenix City Hall until the capitol building was completed in 1901 (it was understood that this situation was temporary). But that building is long gone from the memories of most residents. Nevertheless, there is one quite striking example of sharing that still stands out: The County/City Administration Building at 125 West Washington.
The building reflects first upon the growth of this urban area, both city and county, and also the mature local governments of Phoenix and Maricopa County. By 1920, Phoenix had surpassed Tucson in population and the county was more populated than any other Arizona county. Having status as the location of the state government also lent importance to these two governing bodies. Thus when it came time to provide larger quarters for their respective administrations, the Phoenix Chamber of Commerce suggested (perhaps pressured is more appropriate) the city and county to join efforts to build a magnificent structure in the center of downtown.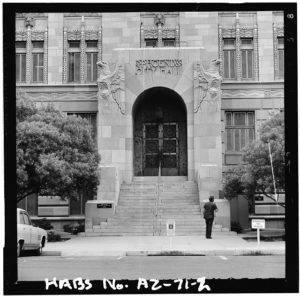 A design competition narrowed the field to seven architects and the Maricopa County Board of Supervisors selected Edward Neild from Shreveport, Louisiana in September 1927. And here's where those "sharing" problems began to arise. The City of Phoenix preferred the local firm of Lescher and Mahoney. So, what could be done to solve what might have been a dreadful impasse?
Each governing body decided that "we can do this" using both architects with Neild being the overall supervisor on the project. Neild designed the Maricopa County portion on the east side of that building on West Washington, and Lescher and Mahoney designed the City of Phoenix portion including the interior on the west end. Two separate entrances mark the difference between the two governments.
By the 1950s, both bodies had outgrown their respective sides and made plans to build SEPARATE buildings. Sharing was no longer a viable option.
While most people see a unified building on the exterior, on the interior you encounter the now non-functioning doors between the city and county sides. Who knows if these differences have actually saved this historic building from demolition.
Phoenix gave Landmark status to Historic City Hall in 2004.
Donna Reiner is the co-author of three books on Phoenix history.