For the September 2017 Market Update, we check in again with Tina at the Cromford Report.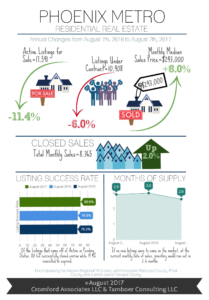 "Supply remains lower than last year, but the gap closed slightly compared with last month in terms of active listings with no contract. We are starting to see more new listings than last year. The third quarter is up 2.5% from last year and up 5.5% from 2015. So far the extra supply is not having much effect, but if it continues for several months finding a property could start to get a little easier for buyers.
The monthly sales rate is up only 1.8% compared with a year ago. Both August 2016 and August 2017 had the same number of working days (23) so we have a fair comparison to draw. Since the year over year growth was 5.7% in June and 3.0% in July we again see a continuing slow downward trend in the advantage that 2017 has over 2016 in sales volume. Growth in the annual sales rate has almost stopped with 95,000 proving to be a difficult line of resistance. All these point to a gradual fading of demand. The serious shortage of supply obscures that fade.
We experienced a seasonal price drop between June and July, but prices have already bounced back during August and are likely to remain on an upward track for the rest of 2017 at least.
We still have a seller's market in most locations and price ranges, but the current trends means the seller's advantage has very little momentum. Before buyer`s get too excited, the trends are very mild in nature. As such we do not currently see major increases in buyer's bargaining power coming anytime soon.
Of course, the market could change quickly, as it did in the summer of 2013, but there is not much sign of this in any of the numbers at the moment."
Anecdotally, we are seeing a huge number of renovation project that seem to dominate the market. I would go so far as to say that they are probably driving prices upward, as the investors are seeking high profit margins and buyers are willing to pay, given a lack of options in CenPho.
In a way some renovations are sad for the historic neighborhoods. I've heard many concerns from neighbors that the renovators are taking this historic souls right out of the homes –turning them in to trendy replications of an Anthropology clothing store.
If you are thinking of purchasing a renovated property, please be certain to have a realtor represent you, even if its not us. Many people don't know that renovators are still responsible for disclosing the condition of the property, even if they claim they never lived in it. You need an agent to protect your interests.
Call us and we can give you more details at 602-456-9388.