We have four new listings coming up this month to kick off the new year.
So, this is just a teaser. We will get you the full new listings as soon as we go live on the MLS. Watch our Facebook page or our listings page on this website for announcements, as they happen.
First, we will present a 1928, 3,500 sqft estate in the Alvarado historic district. That's between Central and 3rd St at about Monte Vista. This home has a deep history in Phoenix along with incredible details and beautiful features which we will be proud to present. It will list next week at $1,050,000.
You will definitely be hearing more about this one soon.
Second, we will present a 2br/2ba, 1,100 sqft charming bungalow in the FQ Story Historic Neighborhood. This 1931 home has all that you would hope from a property in FQ Story, including historic built-ins, wood floors and easy accessibility to all the fun downtown. Final list price is TBA. Watch for this listing at the end of the month.
Third, and also at the end of the month, we will present a beautiful 1,700 sqft, 2br/2.5ba property at Townhomes on 3rd. This development was the previous town home project completed by local developer Matt Seaman in 2015. These properties have their own garage parking, with beautiful appliances and views of downtown lights. This property is about 200 yards from the Gold Spot Market. Final list price TBA.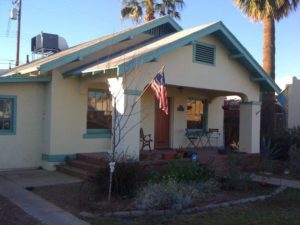 Last, but not least, I am listing my very own 3br/1ba, 1,362 sqft property in the Garfield neighborhood. I am specifically pricing this home for those who want to renovate their own space –rather than investors– because I believe in supporting creative, owner-occupying renovators in a neighborhood that I love.
I purchased this home in 2006 and I've put over $50,000 in to it since then. I updated the landscaping, paint, porch, kitchen, bedrooms and bathrooms –which could use a touch up. But, I also added a new roof, blown-in insulation, tankless water heater, a foam roof over the master bedroom, historic double-hung windows and other historic touches. This property is coming on the market this week at $265,000.
The market is hopping right now. So, if you need some help finding the right property, or help selling your home, please call us at 602-456-9388.