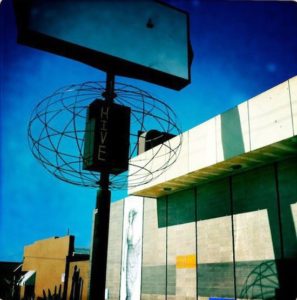 The May Get Your PHX at The Hive will celebrate a multi-tenant space, its newest residents and the incredible work of Rigo Flores. Join us for raffle, small bites and meet the owners!
Since 2009, The Hive on 16th Street has been inviting businesses and artists to participate, connect, and flourish.
At the May Get Your PHX we will see a new coffee shop buzz, meditation/buddha art studio, a zine distro, art gallery, and a resale boutique keep everyone moving. Not to mention hosting community events, but that's how Julia Fournier likes it.
Says Fournier, "Since 2009, we have shown more than 100 artists in over 60 shows. We focus mostly on local artists, usually emerging or transitioning creatives… In May, we're showing the work of Rigo Flores."
Flores' work speaks to the patriotism, violence, corruption, and current atrocities that have occurred in Mexico. #YaMeCanse2 features blurred paintings, intentionally creating an ambiguous interpretation. Drawings are made clear, portraying the Mexican salute to the flag, "however in juxtaposition to the paintings, one's feelings of patriotism are confused."
In a space like The Hive, the merge of community and business creates a unique cluster identity where anyone is welcome – and contributing to the community is a must.
Meet Zine Distro, Wasted Ink Distro. Owners are Charissa and Marna, (and a whole lot of interns). A small Zine library and store, Zine Distro is a home base for any AZ Zinesters looking for a DIY, creative space. Workshops, readings, concerts, and craft fairs fill the event calendar each month.
And meet Shana Bell, owner of TaSen, Buddha and Meditation Art. She began her business not as a way to profit, but as a way to give back to the community after experiencing a life changing healing event in Thailand. Meditations are twice a week.
Cherisse and Kristy run Silent Flight, a coffee shop inside The Hive. They're celebrating two months of business!
Lastly, The Bees Knees, Julia Fournier's business. Specializing in second hand fashion and hand selected pieces. "My idea was to shop with an eye for design lead clothing, and to shop carefully so that I could keep prices low. The clothing and household items are here because I think they are special in some way."
May Get Your PHX at the Hive
When: May 18th at 5:30pm.
Where: 2222 N. 16th St, Phoenix 85006
More Information and RSVP at This link!