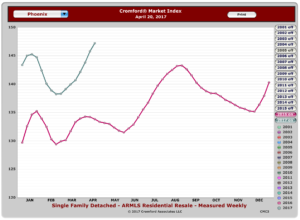 Our friends at the Cromford Report give us the county-wide scoop for this May 2017 Market Update, as they do every month.
Supply is even further below last year than it was last month, both in total active listings and in active listings with no contract.
The monthly sales rate is down over 6% from last month, but this is a very unfair comparison. March had 23 working days and April, because it had a weekend at both ends, only had 20. With 13% fewer working days we could easily have seen sales drop a lot more than 6%, so demand remained in strong shape throughout April. Sales were up 3% from April 2016, but in 2016 April had 1 extra working day, so that again is a pretty strong result.
Sellers remain in charge of the market in most sectors and price is responding accordingly. The average sales price per sq. ft. is our preferred method of measuring prices and it is up over 7% from last year at this time.
Sales are extremely hampered by lack of supply below $200,000, but above $200,000 supply is more free flowing and sales are up by very large percentages from 2016.
So in summary almost the whole market is humming along with all cylinders firing. However there is little sign that it is going to move up a gear from here.
The Cromford® Market Index appears to be making little effort to surpass its recent peak of 147.5 thanks to a very slight weakening in some demand indicators (including listings under contract). We are at a point where the seller remains in firm control but the seller's advantage is no longer growing stronger.
Anecdotally for this May 2017 Market Update, we've seen a slight slowing in the number of showings in all listings, as the year progresses. I would hate to speculate as to why that could be –anything from national political uncertainty to local unhappiness with the available supply.
But in the end, when we see slight shifts like this, we suggest you watch the market for other indicators of changes. There could be a shift brewing.
We have already opined that, if you are thinking of selling, then 2017 is probably the best time to do it. We are over-due for a market correction in Arizona, and that may put downward pressure on house prices by early 2018.
So, the take-away? If you are thinking of selling, let's get a strategy together. If you are thinking of buying, you might consider taking a little more time building up cash reserves so you can bring more to bear to your next purchase.
If you need to do both, well, we'd better get a cup of coffee and talk. Please call at 602-456-9388.