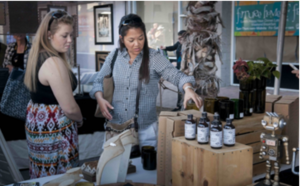 The Local First Fall Festival is taking applications for vendors now.
We like to drop by every year. The Local First Fall Festival has food, gifts, services and a beer garden.
You had me at beer garden.
It happens this year on November 5th and they are expanding. In previous years, they located in the little strip of land at Portland and Central. This year, they are taking over Margaret T. Hance Park.
So, I think that means they will expand their footprint a bit. It will be nice to have a little more space between the vendors so I can stop at more without worrying that I'm in anybody's way.
From what we hear, the organizers are now taking applications for vendors. Check in with the Local First Festival here.