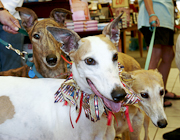 Greyhound Pets of Arizona is an organization that, obviously, helps with greyhound fostering. It has received word that the Tucson Greyhound Park will be closing this year. The best word they have at this time is that the closing is likely to be the end of June.
GPA, along with other adoption groups in the area, is mobilizing to start bringing retiring greyhounds into foster programs so that they can live with loving families.
The legislature has finally voted to end greyhound racing in Arizona (thankfully) and the park will be closing.
So, GPA is in need of additional greyhound fostering homes over the next three months. If you think you might like to foster a greyhound, call 1-877-545-3647.
The hounds will be coming directly from the track.
They may or may not be spayed/neutered when you get them
They will not have been tested with small animals and cats
They may have parasites such as ticks although the kennels are
working hard to make sure the hounds are clean.
They will not necessarily be house broken
Of course, it begs the question of what they will do with all of that park space. Could that be turned in to urban housing, or a huge festival space? Its yet to be seen. I hope that the park does not sit empty for years, as that would be a sad situation for our positive urban development.
I used to want a greyhound when I thought they could run long distance with me. But then I learned that, while they are great at short speeds, they are not good at distances and are generally very calm dogs.
It was a bummer, because they are such beautiful and sleek dogs. If you are a lover of art nouveau or art deco design, you will see them and Afghan Wolfhounds depicted everywhere. But, I digress.