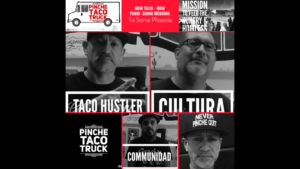 Michael Reyes is a fighter, thus "Pinche the Warrior." After a bout with a potentially cancerous medical issue, (which after surgery left him without a food truck), Reyes is now rising up again. Pinche Taco truck will be partnering with Bar Smith and serving the community just like before.
Many of us remember spending long nights on the Paz Cantina patio, laughing with friends, eating those damn delicious tacos. Then after development, we'd flock to fill the picnic tables outside his food truck.
Michael is a warrior, and his weapon isn't an arrow, nor an axe, it's not even a hammer. Michael's weapon of choice is food. This is the one constant that any Anthropologist will tell you "connects every human together", food is culture's glue. By wielding his weapon, he continues to bring us all together.
Like any warrior, Reyes' battle ground may change, but his passion and purpose never falter. From his food truck, Reyes and his team served over 30,000 tacos and burritos to the homeless. Now, his step one in the plan is to bring a brand-new food truck, Pinche Tacos, to the streets that will serve the customers at Bar Smith, and spend off times serving at rallies and First Fridays. As he puts it, "This truck will be on the streets when it's scheduled to and when it has a purpose." With the city and downtown-devotees help, Michael hopes to open a new brick-and-mortar in December.
"This is my Phoenix," Reyes said. "We all have more passion than we do money. But we're dedicated to this, to this street. This is our home, our world. Between 'the sevens.' That's what we fight for. That's why we cry, and that's why we fight, and that's why we hurt."
As Michael has always put it, "I will be back, delivering burritos to my people."
Join us in celebrating Michael Reyes, Pinche Truck and the passion and purpose again in Downtown Phoenix. Celebration at Bar Smith, see event details below.
When: Thursday, April 20th from 5:30PM – 7:30PM
Where: Outside of Bar Smith: 130 Washington St, Phoenix, AZ 85004
Note: Free raffle ticket for all those that attend!
RSVP: Click here
Check out the Facebook invite here.