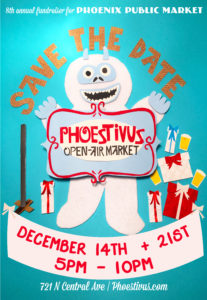 Its time for Phoestivus 2017, this December 14th and 21st.
We have an all-new look, the Return of the Yeti and all the fun and frivolity that you expect from our rag-tag crew of Phoestivonians.
Is that a word?
We will have a new feats of strength. The airing of grievances will again feature live story telling. The Hipster Santa will join us again. And, of course, the Phoestivus pole is still sitting in the middle of it all, watching you to see if you have been naughty or nice.
Check out Phoestivus.com for more information and updates. Vendor applications are closed for this year, by the way.
It seems like every year somebody comes to us in November saying they would like a vendor application. People, please remember that we usually book out by mid October. This is a pretty popular event, y'all!
Phoestivus is one of the best ways for sponsors to address a loyal and targeted audience of about 3,000 people per night.
And, as with every year, this year's event will be a fundraiser for Community Food Connections, which organizes the Phoenix downtown farmer's market. The market is one of the few places downtown where you can get locally-gown, whole foods that nourish both our bodies and our community.