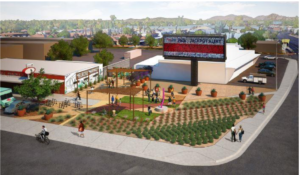 The Community Alliance of 7th Avenue is building a park in the Melrose District on 7th Ave, right next to Melrose Pharmacy on Montecito.  It is called "The Lyceum", which means "gathering place".  Construction starts Dec 18th, and will be completed in February.
In this, they are offering you a chance to have your name and message engraved on a BRICK that will be imbedded in the park.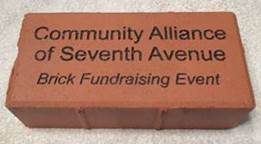 Each brick has room for 3 lines with 18 spaces per line.  Prices start at $50 for individuals and $100 for businesses, with discounts for multiple bricks.  The cost is tax-deductible, and the proceeds will be used to build and maintain the park.
Get a discounted 4-pack of bricks for family and employees, they make great gifts!
Let the folks at the Community Alliance know how many you want, and they will reserve them.  Online forms are at:  casaon7thave.org.
The Community Alliance of 7th Avenue:  Charley Jones, Pam Pawlowski, Kara Cardoza and Gary LeBlanc. 602-359-5095
The park is a partnership of the Community Alliance of Seventh Avenue, the City of Phoenix Parks Department and Clear Channel Outdoor. It became possible because of Clear Channels' commitment and donation to the Melrose district. They are a phenomenal corporate neighbor, and we can't thank them enough. This project also furthers Mayor Stanton's' objective to activate vacant lots throughout the city. He has helped this project many times over the years, and we send mountains of thanks to him. Also, Vice Mayor Pastor has been very instrumental during this process, and we send tons of thanks to her. Finally, the community has been involved many times throughout this journey, and today the project enjoys widespread community support.
The Community Alliance engaged Norris Design, LLC to design and build the improvements, and Norris chose Harvest Design Group for the construction. Both companies are donating plenty of time and labor to the project, and we send huge thanks to them. Also, a majority of the materials for the project will be donated, and we truly thank those donors too.