The history of 2032 N. Alvarado speaks to the early growth of Phoenix, before there was air conditioning, an airport or hipsters drinking organic, craft beer. In fact, it was built during the first Phoenix housing boom of the 1920s.
You might have seen this home on our Listings Page. We are so proud to represent this listing. Have a look at the listing and photos that capture how beautifully this home has been maintained.
The home is an example of Spanish Mission (which some will argue is Santa Barbara style). Dominant features of the time include an arched batten door,  corbelled imposts and a dominant balcony, which is quite rare and unique now.
Built in 1928 by Harry Tritle, the son of former territorial governor F. A. Tritle. He was the Assistant Secretary of the Territory of Arizona starting in 1897.  He was also the editor of the Arizona Gazette. Many years later, in 1926, he was appointed to the Industrial Commission of Arizona.
Unfortunately, he and his wife, Amy Tritle, divorced in 1932. She was able to maintain control of the property and rented it to Paul Hyde Davies for several years. Paul Davies was a locally-successful business executive, who came to Phoenix from Pittsburgh, where he was an early voice on radio.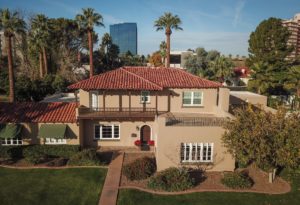 The Hyde Davies home was the site of a wedding in 1936 —the maid of honor was the wife of the young Barry Goldwater, who was in attendance, and who had only 6 years earlier inherited his father's well-known department store business.
The Arizona Republic went to great detail about the details of the wedding and the fashion choices of the many attendees. Unfortunately, the archives articles from the time are behind a pay wall at Newspapers.com.
Reading these old papers is a hoot. Did you know that, when this marriage happened, you could get a Westinghouse Electric Waffle Iron for $8.90 — 90c down and just $1/mo. on your electric bill. So, I guess people did pay for things on their electric bills back then.
Amy (the formerly Mrs. Tritle) re-enters the story in 1938 to sell the house to Preston T. and Margaret Brown. Preston was a well-respected gynecologist and was elected to the Phoenix City Council in 1961. Preston, unfortunately, died at the age of 57.
This home has seen so much of Phoenix's growth since then. We are still working on compiling the history of the home since that time. So, stay tuned!
If you have a historic home that you hope to sell with the help of a qualified and successful team that also respects the importance of the stories behind historic homes, please contact us at 602-456-9388.