Donna Reiner, a local historian and a good friend of Get Your PHX, has written many articles over the years for the Arizona Republic and others about what came before us. We use her services when we list properties of historic significance to help us tell the stories behind the homes.
We are happy that Donna is allowing us to re-publish some of her articles on a monthly basis. If you or your business ever needs a historian, let Donna know at laydeescholar@hotmail.com.
---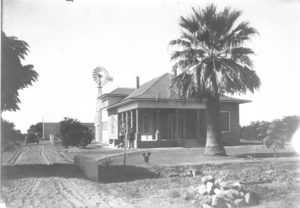 In late fall of 1906, Adam Diller and his large family left their home in Bluffton, OH for Phoenix, AZ taking household items and farm equipment on the train that they would need to start a new life in territorial Arizona. The Dillers, along with other Mennonite families from Ohio and Indiana, were drawn to the Phoenix area because of its fertile farm land.
The Dillers first purchased 40 acres on what was then the outskirts of Phoenix along 16th Street between the Phoenix Ditch and what is now Roosevelt Street.  A dairy was there initially and the Diller family sold the milk to Phoenix residents. A resourceful family, the Dillers began making textured cement building blocks using water from the canal which were used to build their two-story home near 16th Street and Fillmore. Unfortunately, the house has long since disappeared from this busy intersection.
Before the sale of the 16th Street property (these forty acres were later sold in 5 and 10 acre parcels), the Dillers purchased 60 acres of citrus on 7th Avenue between what is now Butler Drive and Dunlap. This area of north Phoenix was our "citrus belt" due to the vast acreage of citrus groves and small citrus growers nestled between the Arizona and Grand Canals.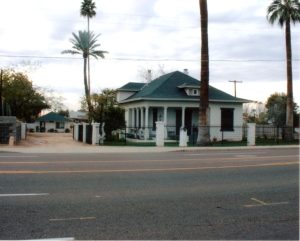 Once again, the Dillers built their home with cement blocks that they had made near their former 16th Street home. The design of this house was different from the 16th Street home.
Dan Diller purchased property south and adjoining his parent's land. It was on this property that an unusual sweet orange tree was discovered. What made this orange different from others in the grove was its size, lack of seeds, and extraordinary juiciness.
Careful propagation of buds from the "mother" tree sometime around 1920, led to the creation of what is now known as the Diller Orange. Lewis Diller, the son of Adam, planted and sold many groves of this orange during the 1920s. This Arizona sweet orange was shipped to market and ads in the local papers offered them for sale. The Diller orange tree is still available for purchase at some select nurseries in the valley.
Today the home on the west side of 7th Avenue is listed on the Phoenix Historic Property Register and the National Register of Historic Places. Those textured cement blocks are a testament to the soundness of the home and the love the Diller family gave to this place.