Selling Your Home
Markets can move quickly in Phoenix and the most important factor to whether you sell your home is how you price it.
There is a saying in real estate: "You find the market. The market does not find you."
In other words, if you price too high, potentials buyers will skip you by. If you price too low, you are leaving money on the table.
To help you identify the right price, we pride ourselves on calculating accurate comparable analysis. But we also watch the over-all market trends closely.
We use use the Cromford Index  to identify when we are in a seller's market or a buyer's market. If the index is over 100, it is a seller's market. If it is under 100, it is a buyer's market. Check out what the recent past has been like.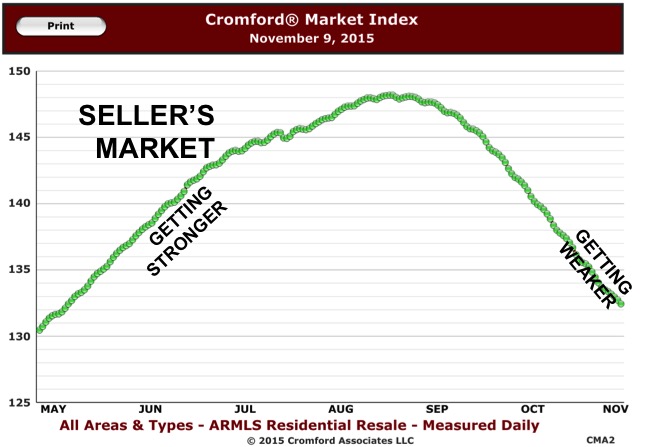 If you are thinking of selling, watch the index. If it is trending toward 100 from a higher point, get ahead of it and price more aggressively to get your home sold.
Conversely, if the Comford Index is moving upward, above 100, that may mean that you could have a stronger negotiating position.
Your location and the condition of the home play a factor, too. So, contact us for an updated analysis at 602-456-9388.
Also, have a look at our slide show, here to preview the home selling process.
When it comes time to market your home, we have several tools that many agents don't.
1) We sell homes with the same determination and strategic thinking that Ken applied to his campaigns –we fight to win.
2) We apply our extensive connections and networking skills to getting your home seen.
3) Our clients' homes will be featured on our Get Your PHX Facebook pages with about 3,000 well-connected people downtown. Our client's homes will be featured in our monthly newsletter, which reaches over 2,500 well-connected and active individuals. This is not a spam-driven newsletter. These are folks who have opted in to the newsletter and who actually read it.
4) We use the latest technology. Over 34% of Americans now use smart phones. The number of people using apps, text messages, and Quick Response codes, or "QR" for short, are on the rise. Our listings use this fact to give buyers instant access to information about a home. This connection means we can speak with every potential buyer at the time they inquire!
Please see the images below and try it out yourself.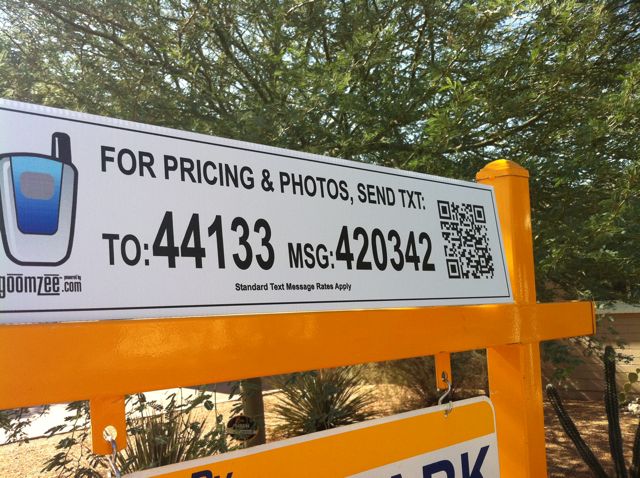 5) We will work with you to set the best price, stage your home and get it seen through a comprehensive marketing campaign. Just for your reference, please have a look at The Do's and Don'ts of Selling Your Home.  This is a great place to start.
Call me today at 602-456-9388 for a free market analysis of your home