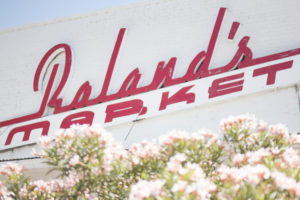 This is a cross-post about a venture some friends of Get Your PHX are taking on. We are particularly interested in this because it signifies that redevelopment is beginning to move eastward on Van Buren from downtown. Keep an eye on this one!
————–
PHOENIX, Ariz. (May 3rd, 2016) – A team of downtown Phoenix advocates have purchased the historic Roland's Market building in Downtown Phoenix, and will restore it to create an iconic space in the growing Eastlake Park and Garfield neighborhoods.
The 4,800 square foot, multi-use property at 1505 E Van Buren St. was purchased for $270,000.
Roland's Market is available to lease, and the team is hoping to find a user who is passionate about housing their business in a unique, historically significant location. "There are so many young, exciting companies looking for cool, untraditional work space," says Kevin Rille, real estate investor and developer with KLMN Properties LLC., leading the project.
The City of Phoenix has plans to revitalize Van Buren, which, in combination with established businesses like Co-Hoots, exciting new projects like The Pickle House by Chicanos Por La Causa, new multi-housing developments by Mike Lafferty, and plenty of light rail stops nearby, the Roland's Market's location will become even more desirable over the next couple of years. "Roland's Market is just outside the downtown Phoenix hub, so it's going to be really affordable, while also being super close to everything downtown Phoenix has to offer," says Rille.
The property was built in 1917, and it operated as a grocery store until 2008. It became the iconic Roland's Market in 1941, when Chinese immigrant Roland Ong bought the building and turned it into a Chinese market, fitting in with the robust, Chinese ex-pat culture in downtown Phoenix in the 1940s.
Rehab on the building will start soon, with plans to bring the warehouse-style building back to its original glory. Even after its many previous tenants, the team was happy to discover that most of the original elements that make the building so beautiful are still intact, including the tin ceiling, exposed brick walls, and wood trusses. One of the most exciting original elements is the vintage sign on the front of the building, a bright red typographic neon sign that has made Roland's Market a landmark along the Van Buren strip.
The purchasing team of Roland's Market LLC. is made up of Kevin Rille of KLMN Properties LLC., a broker and real estate manager; Celine Rille of Rille & Co., a creative studio that will handle the branding and marketing of the property; Brian Cassidy of CCBG Architects Inc., who will design the project; Kees Rietsema, a Phoenix entrepreneur, and two silent partners.
The team's dedication to the development of Downtown Phoenix is a pivotal part of this project. Having recently served as president of the Evans-Churchill neighborhood association, Kevin Rille's passion for downtown Phoenix led him to find this deal; Rille & Co. has been fundamental in projects around Downtown Phoenix, working on interior design, branding, and culture creation in spots like DeSoto Central Market and The McKinley Club, the co-working space and social club in the heart of the Roosevelt Row arts district; and CCBG Architects Inc. have been influential in the revitalization of the warehouse district, designing many of the adaptive reuse office and event spaces in the neighborhood, including their own work space.
The team hopes to make Roland's Market a staple of the up-and-coming Van Buren hub.