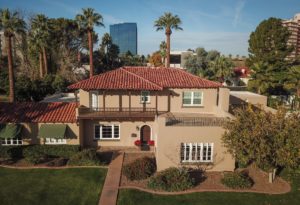 Don't miss out on this huge price drop on this beautiful 1928, 5br/3ba, 3,700sqft Spanish Mission style historical home.
You might have seen this home on our Listings Page. We are so proud to represent this listing. Have a look at the listing and photos that capture how beautifully this home has been maintained.
You can see the video tour that we put together for your viewing enjoyment on YouTube.
Check out the crafted woodwork, the coved ceilings, the luxurious grounds and the attention to detail and respect for this home's origin. The current owners have added just the right touches, including a beautiful pool. You can have all this, as well as easy access to downtown, transportation corridors, shopping, entertainment and a peaceful urban neighborhood.
The home was built in 1928 by Harry Tritle, the son of former territorial governor F. A. Tritle. He was the Assistant Secretary of the Territory of Arizona starting in 1897.  He was also the editor of the Arizona Gazette. Many years later, in 1926, he was appointed to the Industrial Commission of Arizona.
This home has seen so much of Phoenix's growth since then. We are still working on compiling the history of the home since that time. So, stay tuned!
If you have a historic home that you hope to sell with the help of a qualified and successful team that also respects the importance of the stories behind historic homes, please contact us at 602-456-9388.