Phoenix Past and Present is a new photo book by Paul Scharbach, Robert Melikian, and John Jacquemart, three people with long and respected experience in historic preservation.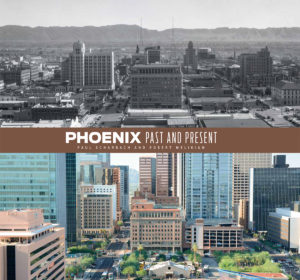 The new photo book offers unique insight into how Phoenix took shape over the last 100+ years.
Open Phoenix Past & Present and you'll find 84 pairs of side-by-side images; each page documents a specific location and includes a brief narrative providing historical background and the location of every photograph.
While the book gives appropriate due to well-known Phoenix landmarks like the Orpheum Theatre, Rosson House, Hotel San Carlos, and Tovrea Castle, it also offers a wealth of hidden gems for readers to discover: Mystery Castle, the 1885 Fry Building (the oldest commercial structure in the city), the Phoenix skyline viewed from atop the Westward Ho, the original KPHO-TV building, Arizona Falls, Green Gables restaurant, the Knights of Pythias Building, and many more.
The authors, Central Phoenix homeowners Paul Scharbach, Robert Melikian, and John Jacquemart have lived in Phoenix all their lives.
This is a perfect book to set on your coffee table and impress your friends with your deep knowledge of Phoenix history. Or, if you don't care about impressing people at your cocktail parties, you can just look at Phoenix Past and Present over a cup of coffee and wonder what our downtown would be like had we maintained more of the row-style structures that downtown Tucson has used to make a vibrant, walkable downtown.
Bitter much, Ken?
No worries, we are re-building that walkable core. We will get there!
Anyway, the coffee table gift book is available at Changing Hands, the Phoenix Art Museum, the Heard Museum, Pueblo Grande, the State Capital Museum Shop and some national chains that I hope you don't use because we all like to support locally-owned businesses, right?