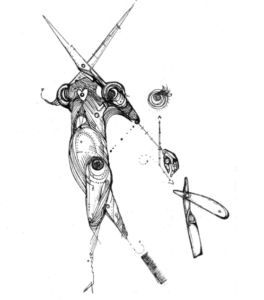 We'll be hosting the May Get Your PHX at Palabra.
In 2012, Jorge Torres first opened Palabra Hair. Art. Collective. in downtown Phoenix and in January of this year, the creative hub launched its new location on 1st Street.
Since breaking out on his own, Torres' vision for Palabra has intentionally brought together hair, art, fashion, music and performance. The idea is to cultivate growth in others and to infuse creativity into all aspects of the business.
Inside the stark white building, Futuro coffee welcomes guests with a rich wafting aroma of espresso, and behind it to the left is a dedicated gallery space, to the right is Torres' hair studio.
Ever since moving to Phoenix from LA to attend high school, Torres has been at the epicenter of the emerging art scene. He'd hop on the green line bus riding an hour each way from Litchfield Park to downtown to see new bands play. Later on, Jorge created Mexikatek Promotions introducing interesting and obscure bands to Phoenix who were otherwise overlooked for more mainstream musicians.
His unique style and creativity caught the eye of Hair Pollution's owner, Tad Caldwell, who encouraged Torres to attend school and become licensed. Jorge soon rose to one of the salon's most sought-after stylists and in November of 2012, he decided to open his own studio.
"I thrive on discovering something new and watching its growth," Torres said. "To me that's a much more mesmerizing and beautiful process than bringing in someone that's already established."
In its new home, Palabra continues to cultivate new talent with the addition of Futuro Coffee, which is the brainchild of Torres and Bill Kennedy, (formerly the Director of Education at Cartel). Kennedy is focusing on building connections with customers through espresso and cascara creations. The intent is to bring more accessibility to the world and craft of coffee; a reflection of Torres' own multimedia mixed purpose mindset.
"I want to be an art pusher. The main purpose of Palabra is to become a place where people can collaborate on projects and create ways to support artists so they can stay in Phoenix and actually live off of their work."
At its root, Palabra is personal. It's a hub that is fostering community daily and is meant to be constantly in motion, evolving and changing with the new like an ongoing art project that is never meant to be finished.
We are excited to explore Palabra Collective this month at the May Get Your PHX with Jorge and invite you to come and see inside their new incredible space!
As always, please RSVP below for the May Get Your PHX at Palabra and check out the Facebook invite page and RSVP Here.
When: Thursday, May 19th from 5:30PM – 7:30PM
Where: Palabra Hair. Art. Collective: 909 N. 1st St., Phoenix, AZ 85004
Note: Coffee and treats may be purchased as we tour the building.