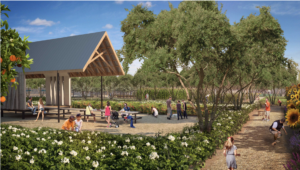 We were pretty excited to learn about the new working urban gardens and restaurant concept for Los Olivos Park at 28th and Indian School: The Farm at Los Olivos.
This is a public-private partnership with Greenbelt Hospitality, who's owners are well known for their work in the community. Matthew Moore's family has farmed in the valley since the 1920s and he currently lectures on art and agriculture across the country. Aric Mei is most known for The Parlor Pizzeria, proclaimed by The Food Network as the best pizza in Arizona.
Have a listen to this KJZZ news story on the possible development.
The project will take the western 30% of Los Olivos park to create working urban gardens and community space, along with dining. It will consist of beautifully designed organic produce gardens, an art and education center, and healthy concessions that will provide a unique and delicious food and recreation experience for its visitors.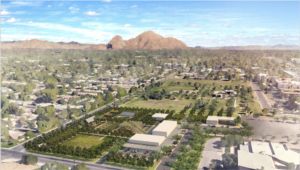 The ultimate goal is to build a stronger and more resilient food culture in our community while providing an educational experience for visitors.
The City of Phoenix issued an Request for Proposal (solicitation) for the creation of a new Park amenity with agriculture, education, and concessions as the core requirements. The Greenbelt team responded along with other proposers.
After a independent review process, Greenbelt was selected as the highest scoring applicant. Through this new public/private partnership, the new amenity will be financed and operated by the Greenbelt team and will require no taxpayer dollars.
Additionally, the land itself will continue to be owned by the City of Phoenix Parks and Recreation Department, and most importantly, no park land will be sold.
Now, here's the most important thing to know. There will be a city council meeting for final approval on March 22nd. Be sure to attend if this issue is important to you!
Learn more at their Facebook Page.