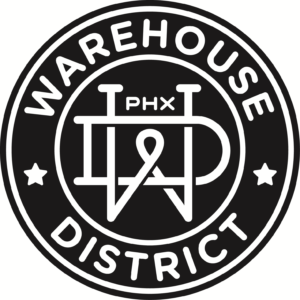 We are getting ready for the June Get Your PHX in the Warehouse District. You'll get a personal briefing on future plans for the Warehouse District, directly from Brian Cassidy, President and CEO of CCBG Architects. Brian is a driving force behind efforts to revitalize the district in to a space for entertainment and the arts.
Have a look at this link for an inventory of major structures in the district, along side their historic photos.
For years the Warehouse District in Phoenix was in a kind of dead stall. With the exception of several small projects. However, as downtown Phoenix becomes more dense it is natural to see development pressure southward.
The question on most people's minds is what that development could look like. We will have access to the city's preeminent thinker on adaptive re-use at our disposal. He will present on current thinking and he'll take your questions.
Yep, this is an exclusive – a not-to-miss presentation.
The Warehouse District's Council's goal is to "promote  and brand the Warehouse District as great place to live, work and play, just blocks from the heart of downtown Phoenix.   This ½ square mile area has significant room to both attract responsible infill development and continue to preserve and restore the unique character warehouse structures that represent the early  working roots of this city."
Brian is a passionate advocate for creating livable, walkable, sustainable and exciting urban places that will continue attracting more people to make the urban decision to move in to central Phoenix and other urban cores currently being formed throughout metro Phoenix. He sees the Warehouse District as "the intersection of history and creativity."
The firm has also been a leader in adaptive reuse projects and has converted more than 25 warehouse buildingsa into creative work environments for groups such as ASU Step Gallery and Graduate Art Studios, Moses, IASIS Medical business in the historic Suns Mercantile Building, and Restoration Place, that was designed in 1982 and was one of the first adaptive reuse projects in downtown.
Be certain to RSVP here so we have a count for the event.
Location: 102 E Buchanan St, Phoenix, AZ 85004
Time: 5:30 opening. Presentation begins at 5:45