Instant Comparables!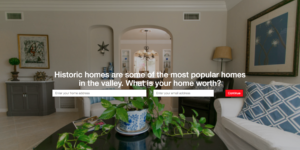 If you have been thinking of selling your home and you want to get a better sense of what your property is worth, please just contact us here with your address and any comments that you'd like to share.
We won't add you to any spam lists. We promise!
More importantly, we will do your comparable analysis personally — no automated comps like you see on those big generic real estate sites. They are seldom accurate. We know. We've tried them!
Then if you'd like, we can get together and look at your property and your neighborhood in order to refine our analysis.
—————-
Fun fact: Zillow calls them "zestimates" because they can't legally call it an estimate. We agents can't even call it an estimate. Unless we are appraisers, we can only give you a comparative market analysis, or a "comp."
Another fun fact: Zillow, Realtor.com and Trulia are not in business to help you find a home or sell a home. They are in business to sell realtors like me ad space for folks like you to see while you are on their websites. In fact, there is an on-going debate about what impact the estimates from those massive companies are having on home owners. Here's an article on the issue from a couple years ago.
Call us at 602-456-9388 for quality analysis and more fun facts.