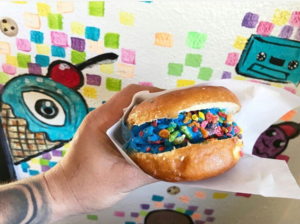 I'm calling this post the Get Your PHX Find for September 2017. I like this idea. Maybe I'll do it more often –its an excuse to eat tasty food and they write about it.
I'm not sure that I'll find a great new spot like this every month, but I've got one for this month!
Actually, I've been meaning to tell you about this Get Your PHX Find for a few months. Novel Ice Cream impressed me right away. Not only are they serving unique and well-made ice cream downtown, but they regularly have lines –despite having done NO advertising!
For the past six months Novel Ice Cream has been serving up ice cream stuffed donuts in the form of their signature Dough Melts from a little red cottage in the Grand Avenue Arts District. Boasting 12 unique flavors of small batch handcrafted artisan ice creams, retro cereal toppings, and craft glass bottle sodas by local supplier Pop the Soda Shop, all served in a colorful and quirky space featuring mural art by local artist Joe Gonzalez. Given its fun and decidedly  different take on a dessert staple, Novel isn't your typical ice cream spot… which is exactly why it fits in perfectly among the buildings on Grand canvassed in some of the most unique art in Phoenix.
Since opening in March, Novel has experienced firsthand our city's love for the homegrown small businesses that are shaping local food and art culture by bringing high quality, unique items to Phoenix's burgeoning food scene. This positive reception culminated in Novel being named the 13th Best Ice Cream Sandwich Shop in America by BuzzFeed and Yelp in July.
Owner/operators Brandon and Jennifer Douglas love the fact that Novel not only serves as an outlet for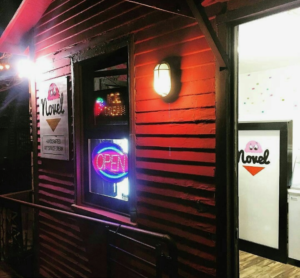 sharing their obsession with ice cream, donuts, cereal, and soda with their customers, but also love that their shop continues to bring people from all over the metro area (and all over the state) to Historic Grand. In addition to Novel, the Grand Avenue Historic district is home to several other well established and unquestionably unique food stops such as ThirdSpace, Grand Avenue Pizza, and Treehouse Bakery. All of which have embraced the community's well known art-centric history. Many believe the recent influx of creative start ups making the downtown section of Grand Avenue their home mean it is primed to continue its path to becoming a major hub for exceptional food and art culture in our state.
Novel Ice Cream is located at 1028 Grand Ave #6 on the Southwest corner of 11th Ave. and Grand in the Red Cottage behind ThirdSpace. Their hours are Tuesday-Thursday 12pm-10pm, Friday & Saturday 12pm-1am, and Sundays 12pm-5pm, Closed on Mondays.
So, I encourage you to try out the Get Your PHX Find for September. I'm a fan. You'll probably see me there, too.
If you have ideas for the next Get Your PHX Find, let me know.