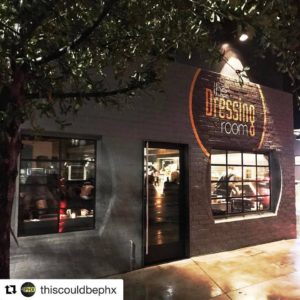 The February Get Your PHX at the Dressing Room as been a long time coming. monOrchid owner, Wayne Rainey, has been dreaming of turning this structure in to a micro restaurant for years. After lots of hard work and a few set-backs, he's finally done it.
Of course, it would not be what it is without the people behind the restaurant itself. You will have a chance to meet Kyu Otsunomiya and Troy Watkins, the brains behind the venture. The two have been friends for 20 years and have worked some of the top restaurants and hotels in the world. They will tell us how they used Kickstarter to launch the Dressing room, and their vision for the future.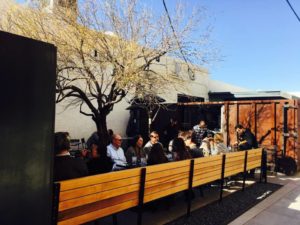 The Dressing Room is designed to serve "Global Street Food" from a Micro Restaurant that also has a respectable craft cocktail list, wine & beer. The will be a full service, fast causal restaurant.  
They have also activated the back alley to include a 40 seat patio, designed around a full grown Native Mesquite Tree and a converted construction dumpster, which had been turned into a full fledged prep kitchen.
So, there you go: adaptive reuse.
They will be open Mon – Thurs:11am to 11pm; Fri – Sat: 11am – Midnight & Sun – 11am to 10pm. They will also have a happy hour every day (Half-off all specialty drinks, beer & wine from 11am to 6pm).
So, there you go: day drinking on Sundays!
The dressing room has a storied history, in case you don't know. Decades ago there was a bar where the apartment building is now next door. You may have known that building at Greenhaus boutique. That bar had an original piece of art on the wall by Ettore DeGrazia, which was destroyed when the developer put up the apartments. (tisk, tisk).
Anyway, when that building was a bar, local drag artists would put on shows for adoring crowds. Because the bar was so small, the performers had to go to the little structure across the dark alley to get ready to go on, then scoot back in time for their next performance. It was their dressing room.
The current owners have kept the name in honor of the performers. At a time when downtown Phoenix was a little dangerous and in an era when performing in drag could put you in real danger (even more than today), these artists really put themselves out there for their craft.
When: February 16th at 5:30 pm
Where: 220 East Roosevelt.
Sign up at this link to reserve your spot.