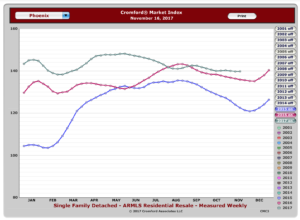 The December Market Update comes at a time when we are seeing a lot of interest in listing homes. We seem to be getting a new call or email every few days from people who want to list in the new year.
Does this mean that we are in a bubble? I don't know. See last month's Market Update to see why I think the market could be turning a little in 2018.
The Arizona Republic reported last week that we are definitely NOT in a housing bubble right now.
I agree.
But that does not mean that there won't be a correction. First, we are not in a bubble because (1) we are not seeing unrestrained debt-loading like we did in 2004-2007 and (2) there is still a strong demand for new housing, especially in CenPho where there is hardly any new owner-occupied construction.
Second, a correction does not necessarily mean that the market will plummet by 30%, as it did in the last decade.
What it means is that homes are priced a little too high. Again, see last month's analysis for more on that.
My gut tells me there could be a 2% to 5% correction in 2018.
I could be wrong. I'll admit it if I am.
The important thing to keep in mind is that we need to look at your specific case.
For instance, if you purchased a home three years ago and you are thinking of selling, it might be a good time. If there is a market adjustment in 2018, prices could be back to 2015 levels by the end of the year. Then you may have to wait another two years to sell.
If you purchased a home in 2009, you are in a great place to sell, as prices have come so far since then.
If you are thinking of purchasing, you may want to wait –unless you are in a position that any savings you have during a slight market downturn are eaten up by further renting while you wait for that correction to bottom out.
Give us a call at 602-456-9388 to analyze your specific situation.