What is the contract ratio?
According to the Cromford Report, it's down.
That means that the homes that are sold, as a percentage of the total number that are active, has gone down. Fewer houses are selling every month, once on the market.
The specific definition from the Cormford folks: The contract ratio "specifically measures the number of completed sales contracts relative to the supply of active listings. The higher the number the greater the buying activity relative to supply. If this number rises then it is a sign of growing contract activity and a positive signal for sellers. Conversely a falling number is a sign of a weakening market – either supply of active listings is increasing or contract activity is slowing, or both. In a balanced market for normal market segments, the value of the Contract Ratio is usually between 30 and 60. When it lies below 20 the market can be considered "slow" or a "cold market". Above 60 can be considered a "hot market" and when it moves above 100 we regard this as evidence of a "buying frenzy".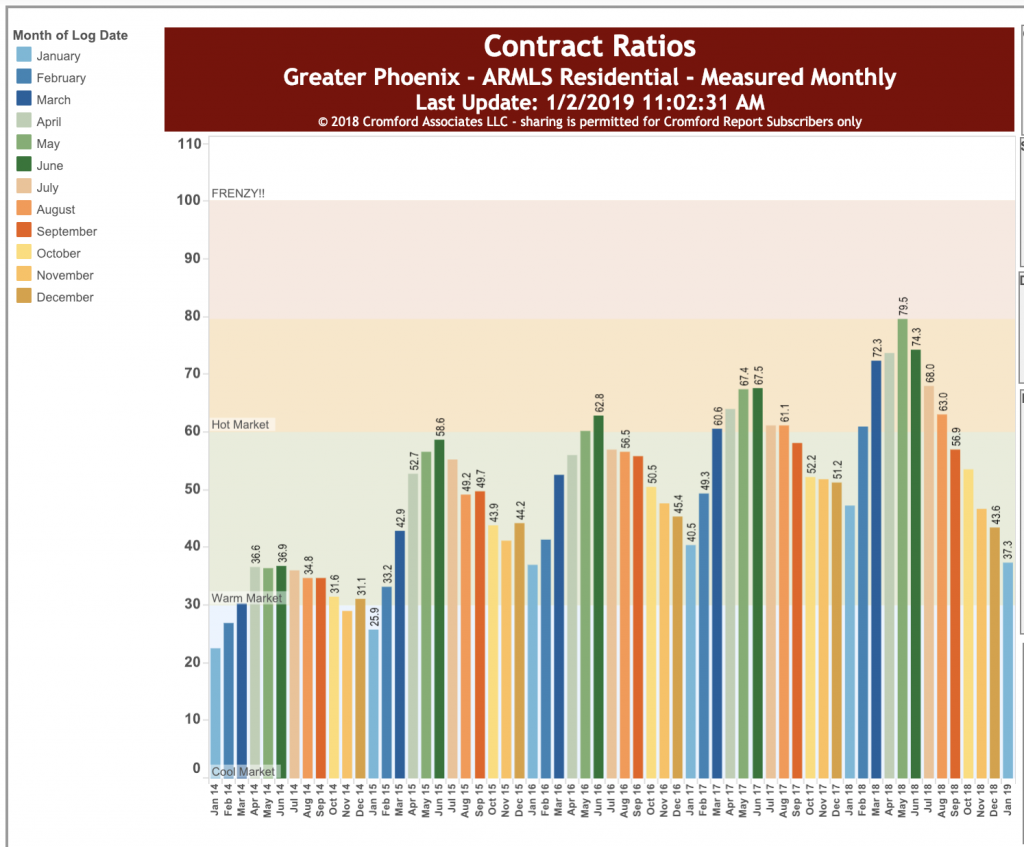 This chart shows that the contract ratio in January of 2018 was 47% and it is now at 37%. That's not a small amount. It rose from 2017 to 2018 by 7%, and 3% between 2016 and 2017.
We've been predicting a change in the market for about a year, and I think you are about to see it happen.
The Cromford folks are not calling it yet, but they did note that December was particularly slow:
"December was unusual in many ways. The most obvious was the low number of listings going under contract. We can see this from the 18.5% drop in listings under contract compared with the start of the month. Closings were strong for the first 2 weeks of December, slightly higher than in December 2017, but then slumped badly in the second half, ending the month almost 10% down on December 2017. December contained 20 working days in both 2017 and 2018 so we do not need to adjust for the calendar. In every respect, December was a weak month for demand, the weakest December we have seen since 2014 for sales (6,422 in Dec 2014). We have not seen listings under contract this low on January 1 since 2008. Clearly buyers are unenthusiastic about buying homes compared with just a few months ago."
So, what should you do if you are thinking of listing? Price aggressively!
If you are thinking of buying, now is when you may have a little more leverage. You won't be able to come in with an offer 10% under list price, but you might be able to negotiate some other concessions.
Call us at 602-456-9388 and we can help you build the right strategy.