Thank you all for helping us raise more money for Community Food Connections than we ever have before at the 2017 Phoestivus Market. We raised over $15,000 to support our city's downtown farmer's market. Total sales for both nights at the market were over $150,000.
While we don't have an official head counter, we are certain that we saw well over 3,000 people on each night of the event.
A special thanks needs to go out to Sara Matlin, the director of the farmer's market at the Phoenix Public Market, a division of Downtown Phoenix Inc.
As the years have gone by, I find myself doing less and less with the market logistics, as Sara has professionalized the operations in a way that I can only dream of.
So, we all get to spend more time at the market just talking to participants and vendors, rather than running around, putting out fires. This means a lot to me, in particular. I walked around the market both nights with a permanent grin of my face, seeing the thousands of people really enjoying this event.
We've become an institution in Phoenix that supports fresh food and Community Food Connections, and Sara gets a great deal of credit for that.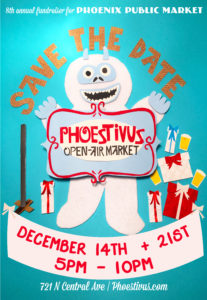 We, of course, could not do it without our sponsors. Our prime sponsor, Bookman's has been a long-time supporter. As have been Impact Printing, Blue Sky Airport Parking, Downtown Phoenix Inc, Roosevelt Row, Dig It Nursery, Local First Arizona and, of course, us, The Get Your PHX Team.
This year, we welcomed the Arizona Opera, Pick Me!, Breadfruit, Roosevelt Point and Tuft & Needle.
We always get questions at or after the market about how one can become a vendor next year. Well, first, be locally owned and consider being a member of Local First. Then check out Phoestivus.com for more information and updates. Vendor applications are typically announced in late August and they fill up in only a week or so.
See you next year!