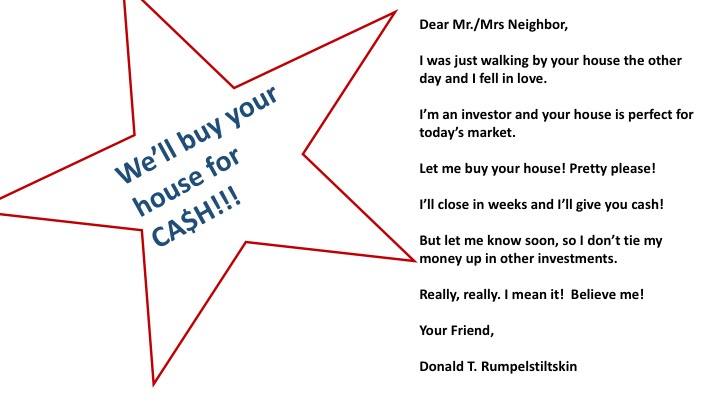 Have you ever come home to find to find a post card that says "We'll buy your house."?
It often looks a lot like this. More recently, the design has improved, making it look like a well-established real estate investment firm has identified your house specifically –rather than by computer algorithm.
They are funny, if it weren't for the fact that they represent such a loss for home sellers.
They almost always include some text talking about how great your house is, even though the author has probably never seen your home.
They always promise to purchase your home for cash, quickly. Sometimes they tell you that this is a limited time offer because the buyer "has other possible investments."
So, like any scam, it has the complement, the enticement and the deadline.
Don't be fooled. More likely than not, the people sending this to you can buy many homes and you don't need to respond by any deadline.
Similar to this deal are the companies that tell you they can help you sell your home "as a For Sale By Owner" (FSBO), thus saving you money on commissions. Don't buy it!
But, more importantly, these ads are more likely to lose you money, and maybe more.
Here are some things to keep in mind:
1. Watch the ball! The promise is that you will make more money for your house when you "don't have to give away 6% to realtors." But, bear in mind that often times these investors offer you much less than you would "lose" by hiring a realtor.
2.  With a realtor you have somebody knowledgeable in the market who is contractually-obligated to protect your interests. Whereas these "investors" give you an offer and claim that it saves you the cost of paying an agent (6% usually), what they don't tell you is that you probably could have brought in much more than that 6% or so by having an agent who knows the local market and knows how to do comparables.
3. Fees, fees, fees! Often there are fees that exceed what you would have paid a realtor. This is similar with the FSBO companies. I spoke to one person recently who was thinking of selling a home like this. He said that he was avoiding commissions and that he would not have to worry about doing any repairs. I asked him what fees they were charging and he replied "12%."My jaw dropped and he explained that this was okay because he would not have to spend any money cleaning up the house or preparing for sale. I could see in his face change as I walked through the numbers for him. "On a $300,000 house, the difference between the 6% commission and the 12% fee is much, much more than you would ever need to hire a team of people to clean your house for you and make minor repairs. You could save thousands of dollars. What could you do with an extra $3,000 or $4,000?"
He is reconsidering that decision.
4. Realtors are licensed professionals for a reason. Its easy to think that realtors just list homes and drive around in expensive cars. But that's not the reality (says the guy with the 2007 Prius with 170,000 miles on it). We are required to take 24 hours of continuing education every two years and we are liable for mistakes that we make. This is important when you consider things like disclosures. What happens if you don't disclose something properly when you sell a house as a FSBO? You could find yourself in court, costing much more than you thought you would save.
If you have been tempted by the FSBO pitch or the "We buy houses" pitch, we are more than happy to analyze their offer for you. No cost. If I'm wrong and you could do better selling those ways, I'm happy to admit it. But if I'm right, please consider allow us to make a listing presentation to explain what do to sell your home.
Call us at 602-456-9388 for more.