We've been seeing some shifting in the central Phoenix market recently, so I figured we might check in early with the Cromford Report for a Central Phoenix Market Update.
Anecdotally, we've seen listings starting to sell more quickly. We expect that as we go in to the high season for home sales –February through June.
The end of 2015 was a little slow for our folks listing properties. It was to the point where we were advising prospective sellers to hold off and watch. We are seeing better activity, so we are encouraging those folks to list now, rather than later.
Cromford confirms what we are seeing in our central phoenix market update. See how the active listings in CenPho zip codes dropped quickly at the end of last year, but they are rebounding now.
What I find interesting is how the Cromford Index responds quickly to that. We see that little dip in the pink line on the index. That corresponds to the increased number of listings –the greater the number of listings, the less of a seller's market it is.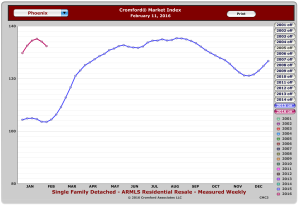 To be precise, there are a lot of factors that go in to the Cromford Index. It is proprietary, so I don't know all of them. But some have been explained to me, and inventory is one of them.
Regardless, and despite the small drop, I find it interesting that we are still at a higher point on the index that almost any time last year.
So, what does that mean? Well, I take it to mean that if folks continue to list, we could see a turn in the Cromford Index. However, if the preponderance of people listing get a little greedy and price above market, then sales of well-priced homes will continue to be robust.
If you need help building a strategy around your sale or purchase, please contact us at 602-456-9388.
You refer, we donate. Call me today to find out how we can support your favorite charity. We appreciate your referrals!