As we do each month, we check in with the Cromford Report for their monthly update. Here's your July 2017 Market Update.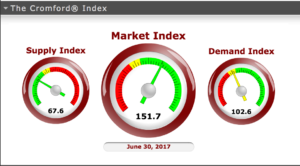 For the monthly period ending June 15, we are currently recording a sales $/SF of $151.10 averaged for all areas and types across the ARMLS database. This is up 0.4% from the $150.45 we now measure for May 15. Our forecast range midpoint was $151.94, with a 90% confidence range of $148.90 to $154.98. We were correct in forecasting a rise, but the actual rise was only about half as big as forecast.
On June 15 the pending listings for all areas & types shows an average list $/SF of $154.91, up 0.6% from the reading for May 15.
Supply has been falling quite sharply in the last few weeks while demand is little changed. However, we will shortly be entering the third quarter, a period famous for weaker pricing. This is because the luxury market loses a lot of sales volume during the hottest months, whereas the rest of the market slows to a lesser extent. This is a seasonal effect and does not indicate underlying weakness. We would expect the upward price trend to resume once we get to the end of September.
Now back to you, Ken.
Thanks, Tina.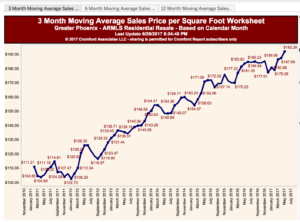 So, here's our more anecdotal view of the July 2017 Market Update for Central Phoenix and the historic neighborhoods. We are seeing property prices continue to move up in CenPho at a faster clip than the county-wide numbers. The chart here is for all prices. When I looked at different price brackets, the move remained.
In short, people want to live in CenPho. But you knew that, didn't you?
We don't believe that this means sellers can price absurdly high and expect to get what they want. Two of our recent listings downtown did have small price drops off of the original list price. That's normal.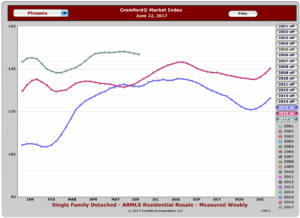 The Cromford Index continues to indicate a strong seller's market, stronger than the last two years. This is, in large part, due to the shortage of available homes. You've heard me recently complain about the over-built rental market. Some of those projects could have been condos. This is the result.
As we often say, your decision to buy or sell should be about need rather than a desire to play the market. We can help you make the best decision with market-based data and experience.
Call me (Ken) at 602-456-9388 and let's chat.