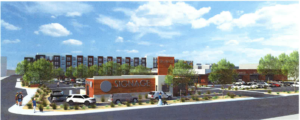 I don't know if you heard, but the Basha's at the SW corner of 7th Ave and Osborn may be going away.
For years I've felt that the historic supermarket could be so much more. I support local and even I have found it difficult to shop there. The selection is small because the square footage is too.
But, according to this letter to neighbors, developers Trammel Crow are proposing mixed-use in-fill. From the looks of it, it does not include a renovated Basha's. That's sad. I think that Basha's has a place in Arizona history and its future downtown.
But the company has been struggling in recent years and perhaps this is what they have to do.
Anyhoo, they are hosting an open house on November 2nd from 5:30 to 6:30 at Phoenix College, OSW Building Room 105.  This will be a big change to the landscape in this area. So, have a look if you are interested. See the letter linked above for more contact info and details.