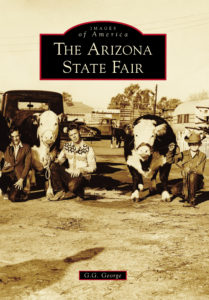 The Arizona State Fair, the latest book by Phoenix author and historic preservation activist, G.G. George, chronicles the history of Arizona's State Fair from its origins as a territorial fair in 1884, through the early days of Arizona's statehood, up to today. The book is filled with 210 historic photographs vividly illustrating the history of the fair, as well as the cast of historical figures who established the fair.
It is her hope that her book, The Arizona State Fair, will serve as a call to action to preserve and restore the Arizona State Fairgrounds – a site that has been an important part of our history since Arizona's earliest days. As a vocal and effective preservation advocate, Ms. George acknowledges there is much work still to be done.
Ms. George performed an exhaustive search of state and local historical archives, and collected cherished photographs and stories incorporated throughout the book. It details the history of Six Points, at the intersection of McDowell Road, 19th Avenue, and Grand Avenue. Early developers F.Q. Story, General M. H. Sherman, and Phoenix Mayor John C. Adams, were instrumental in orchestrating the purchase of 80 acres in the Six Points area in 1905.  The location became the site of the Arizona Territorial Fair, which transitioned to the Arizona State Fair after Arizona achieved statehood in 1912.
The book is an engaging historical record of how the fair evolved from a showcase of Arizona's agricultural roots, when horse races and rodeo events were popular, to its modern incarnation as an exposition and entertainment venue.  Fluctuations in fortune include the cancellation of the fair in1918 during the flu pandemic, and a hiatus in the 1930's due to lack of financial resources during the Great Depression. The grounds also functioned as a mini-city for hundreds of evacuees from Hurricane Katrina in 2005.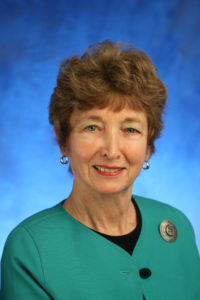 Ms. George will participate in a book signing on Saturday, October 14, 2017 at Antiques on Central, 730 E. Missouri Ave., Phoenix from 11:00 a.m. to 3:00 p.m. The Arizona State Fair is also available from the author gggfabgal@msn.com  Proceeds are designated for historic preservation.