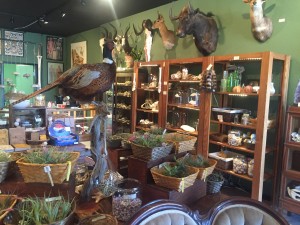 Thanks again to Tim Bishop, Ryan Jerrell and Jessica Brining for hosting a beautiful event at DIG IT Urban Garden. The weather was perfect, the lighting was elegant and everybody had a great time.
March is looking to be another great event. Satisfy your curiosity this month as we explore Phoenix's finest oddities shop, Curious Nature, at their new home on Camelback and Central.
Oddities, curiosities and eclectic collections fill every inch of space at Curious Nature making it one of the most interesting shops you'll ever step into. Specimen jars and jawbones line the display shelves while walls hold pinned moths, butterflies, and mounted animal heads. Owner Mason Conway modeled the shop after history's iconic cabinet of curiosity, (also called "wonder rooms"), where extraordinary objects tell a visual story of the wonders of the natural world.
Conway has always been a fan of the Victorian Era and began collecting at a young age, "Collecting natural specimens was a very popular hobby at that time, and I was looking for a new career path. The opportunity to open the shop presented itself, so I jumped at the chance."
Conway's contacts in the collectors world affords him opportunities to bring in great pieces by local artists like Heather Grimes Dream Wings jewelry collection, which works with 100% harm-free wings, bones and snakeskins to create incredible necklaces sold in store.
Mason's passion for sharing his knowledge with others encouraged him to launch his own business. With the new space, Conway's now able to expand the class sizes for etymology and taxidermy, which sells out quickly! Next up is a class on Taxidermy with rats in early April.
As Conway puts it, "I just wanted to share the things I love with Phoenix. I love teaching and I love learning. This is a great opportunity to share my interest in the beauty of science and nature in a unique way. It's like a museum, but you can take it home with you. I encourage people to pick things up and touch them."
Meet Mason and the crew of Curious Nature this March with us and enjoy tours and small bites till 7:30PM. As always, RSVP below.
Date: Thursday, March 24th
Time: 5:30PM – 7:30PM
Host: Curious Nature: 5032 N. Central Ave., Phoenix, 85012
Note: Free to attend, free raffle ticket at entry!