My friend of many years, Dick Geasland of MIKID shared this invite with me to share with you.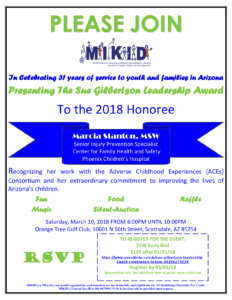 This is the upcoming MIKID Sue Gilbertson Leadership Award.
MIKID improves the behavioral health and wellness of children and youth through a family-centered approach.
MIKID offering an array of services to families of children with emotional and behavioral challenges. Last year MIKID served families in 69 Arizona cities and towns, providing education, resources, and support to hundreds of Arizona families annually.
MIKID's history stemmed from one individual's overwhelming concern for the lack of services provided for children in the mental health field and the many serious issues that were not being properly addressed. Sue Gilbertson began her quest in 1984 when her son, Eric, was diagnosed with mental illness.
In trying to get assistance for her son, Ms. Gilbertson found herself amidst a conventional medical community that was simply not equipped to handle the problems her son was facing. She was confronted with a community that was indifferent and uncooperative to her needs.
MIKID focuses on youth and youth-voice, as well as on the adults in the families they serve. In an effort to further this youth focus, MIKID created Youth Summits, a one-day Leadership training for youth, particularly focusing on Transition Age Youth (TAY).