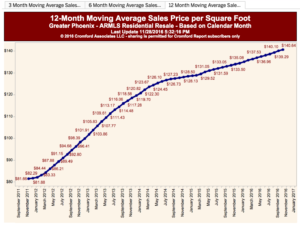 The December 2016 Market Update is based on the latest numbers from November. Our friends at the Cromford Report provide us with the most reliable data to share with you.
"After the usual summer lull, pricing has regained a lot of upward momentum over the last 2 months. However that upward momentum is petering out now and increases in the rest of the year are likely to be modest. Nevertheless it still seems probable that will see the highest average price per square foot for 2016 posted during December.
For the monthly period ending November 15, we are currently recording a sales $/SF of $145.44 averaged for all areas and types across the ARMLS database. This is up 1.8% from the $142.84 we now measure for October 15.
On November 15 the pending listings for all areas & types shows an average list $/SF of $147.84, up 0.2% from the reading for October 15.
Our mid-point forecast in the December Market Update for the average monthly sales $/SF on November 15 is $145.81, which is 0.2% above the November 15 reading.
Currently we are seeing additional supply arriving for the West Valley, especially Surprise, while supply in parts of the Southeast Valley is becoming tighter, especially in Chandler. On its own this change is likely to cool average pricing a little because the future sales mix will slightly favor the cheaper homes in the West Valley which sell extremely quickly."
What does this mean for you? Well, I think prices will continue to rise, generally, and specifically in the CenPho and historic neighborhoods. There are few new houses being built in this area and people still want to live more centrally.
While there is increased pressure on the Federal Reserve Bank to raise interest rates, especially with news that we just hit the lowest unemployment rate in 9 years on December 2nd, even a one-point increase in interest rates probably won't slow that demand. We are already at historically-low levels. So, we would be at "historically low + 1%."
So, if you are looking to sell, I would do that between January and June, before any possible negative outcomes from an aggressive Trump immigration policy might take hold. Plus, that is the busiest time of the year. Please see my post on that issue, here.
If you are looking purchase, I would do that sooner, rather than later. If prices are going up and interest rates are going up, you could get hit with a double-whammy.
Give us a call and we can help you build the best strategy, 602-456-9388.