As many of you know, I'm a fan-boy for the Phoenix Public Works Department's efforts at building a circular economy.
Here's the difference between the two. And, yes, the difference is huge for not only our sustainable future, but also for our local economy.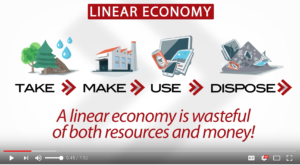 A linear economy is wasteful, expensive and does not create as many jobs as it could. It costs more money and jobs to ship raw materials here from out of state, or out of country and it adds carbon emissions.
Click here to see the video that these screen captures come from.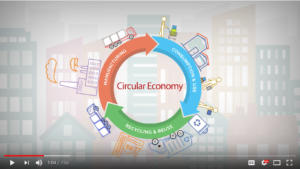 A circular economy takes advantage of materials that are already in our waste stream, and re-uses them in a way that creates new jobs and businesses.
When you think about waste streams, think numbers. Over 7 million people in Arizona are all throwing away trash every day. We currently recycle less than 20% of our trash, despite all of those blue bins that we see in our neighborhoods. Office and industrial waste is often passed right in to the landfill.
Hey, just imagine what is happening to all of the metal, wood and concrete that comes off of those many homes that you see being renovated right now.
So, I'm particularly interested in the work that ASU is doing in collaboration with the city to find ways to extract the monetary and employment value from this waste stream. Check out the Resource Innovation and Solutions Network, which has just started its "Call for Innovations." This will result in an demo and expo day, which will certainly lead to new business opportunities.
At a time when there is a lot of talk about bringing jobs back to the US, these folks are making it happen. After all, the more basic materials we can re-use here, the less we need to import from across the ocean.
Watch these folks. They are certain to have more to report as they are building a circular economy.