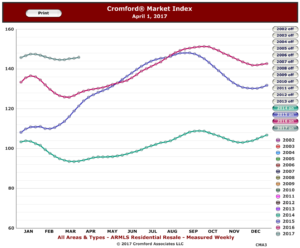 Our friends at the Cromford Report paint a picture for this April Market Update of a stable, but upward-trending price line, probably fueled by a reduction in supply.
This may be why we all keep getting those annoying form letters in the mail offering to purchase our homes. (But we all know that those buyers are just fishing for people willing to sell their homes at a discount, don't we?)
Anecdotally, for this April Market Update, we see lots of buyers coming to us. We've also had a fair number of sellers talking to us about selling. Not all are pulling the trigger, so there might be some hesitancy on the selling side of the equation.
There could be many reason for that. Despite record stock market highs, folks might be a little uncertain about what is coming next, and whether they should sell now or wait.
Anyway, so sayeth Cromford:
"Supply is significantly down from last year, especially in terms of active listings that are not in UCB or CCBS status. A drop of 12% is not to be sneezed at and makes life hard for most buyers.
The monthly sales rate is very strong, up almost 11% from last year, though this year over year growth is a little less than we saw last month. Surprisingly, we are not seeing the same growth in pending listings or in listings under contract. These are running close to last year's numbers.
Pricing continues to advance, though not at any alarming rate. In fact the median sales price is unchanged from last month. This just shows one of the disadvantages of medians – they tend to cluster at round numbers, like $230,000, and resist moving by small amounts. Our more reliable indicator, average $/SF indicates an appreciation rate of 6.1%, better than last month's 4.8%."