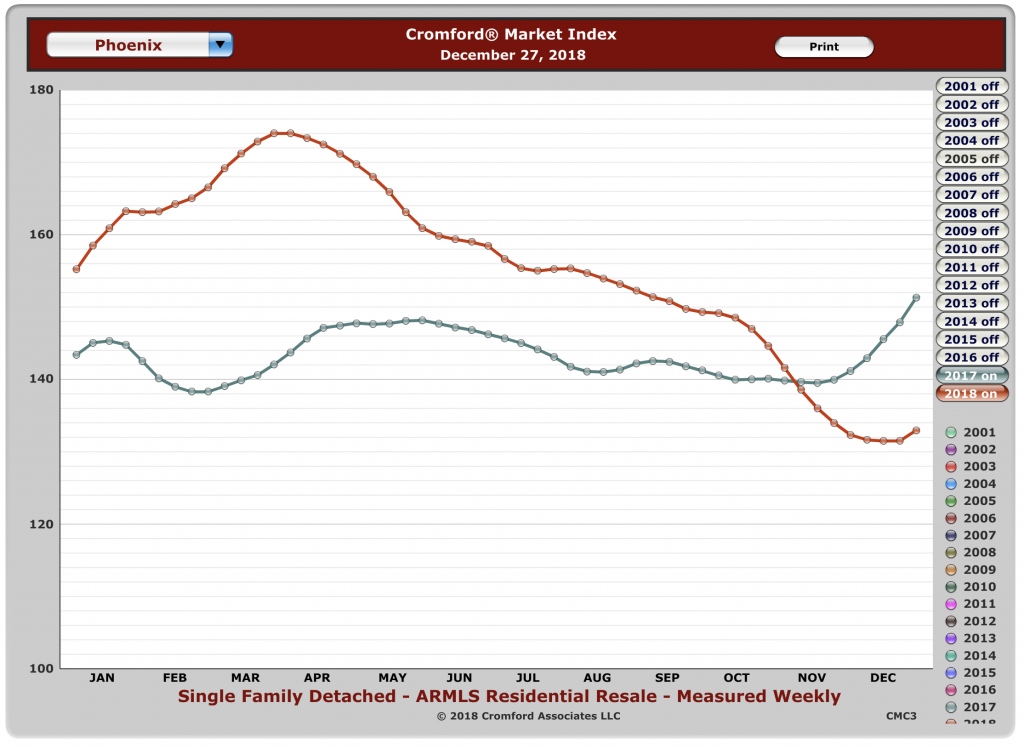 Well, we go in to 2019 for our January Market Update with a little uncertainty about the market. Anecdotally, agents that I've spoken with have not seen the numbers of buyers coming to their doors that they would have liked. I have opined in the past that this may be a result of jitters over the election and the stock market.
But, January is a new month in a new year. So, we are all watching what happens. Thus, we check in with our friends at the Cromford Report:
"December was unusual in many ways. The most obvious was the low number of listings going under contract. We can see this from the 18.5% drop in listings under contract compared with the start of the month. Closings were strong for the first 2 weeks of December, slightly higher than in December 2017, but then slumped badly in the second half, ending the month almost 10% down on December 2017. December contained 20 working days in both 2017 and 2018 so we do not need to adjust for the calendar. In every respect, December was a weak month for demand, the weakest December we have seen since 2014 for sales (6,422 in Dec 2014). We have not seen listings under contract this low on January 1 since 2008. Clearly buyers are unenthusiastic about buying homes compared with just a few months ago.
Sellers are not showing much enthusiasm either, coming up with fewer new listings than last year. However the number of active listings is on an upward trend due to fewer of them going under contract than usual.
We have the Cromford® Supply Index at 66.3 at the start of 2019 telling us that we are missing about a third of the supply of active listings we would normally expect in a balanced market. The Cromford® Demand Index stands at 87.7, the lowest level since 2014 and implying we have about 12% less demand than we would expect in a balanced market. The combination of very low supply and low demand gives us a Cromford® Market Index of 132.3 with sellers having the edge. However the Contract Ratio of only 36.3 (45.4 last year at this time) tells us that we have a cooler market than usual.
Prices are still moving upwards but the annual appreciation rate has stopped rising and is now heading downward. It remains well above the general inflation rate, however. The monthly average price per sq. ft. is up 5.3% from a year ago while monthly median sales price is up 5.9%.
The market will be watching closely to see how many new contracts are signed in January. This will give us a reasonable idea of whether buyer enthusiasm is still waning or is starting to recover. Market distress is extremely low and most home owners have plenty of equity. The only real problem is a shortage of committed home buyers."
So, what does this mean for you? Well, if you are a buyer, don't wait for many months to buy, only to find out that higher interest rates have eaten away your buying power. If you are thinking of selling, let's talk strategy.
Give us a call at 602-456-9388. Depending on when you purchased, you might want to wait, or you might want to get right in to the market.