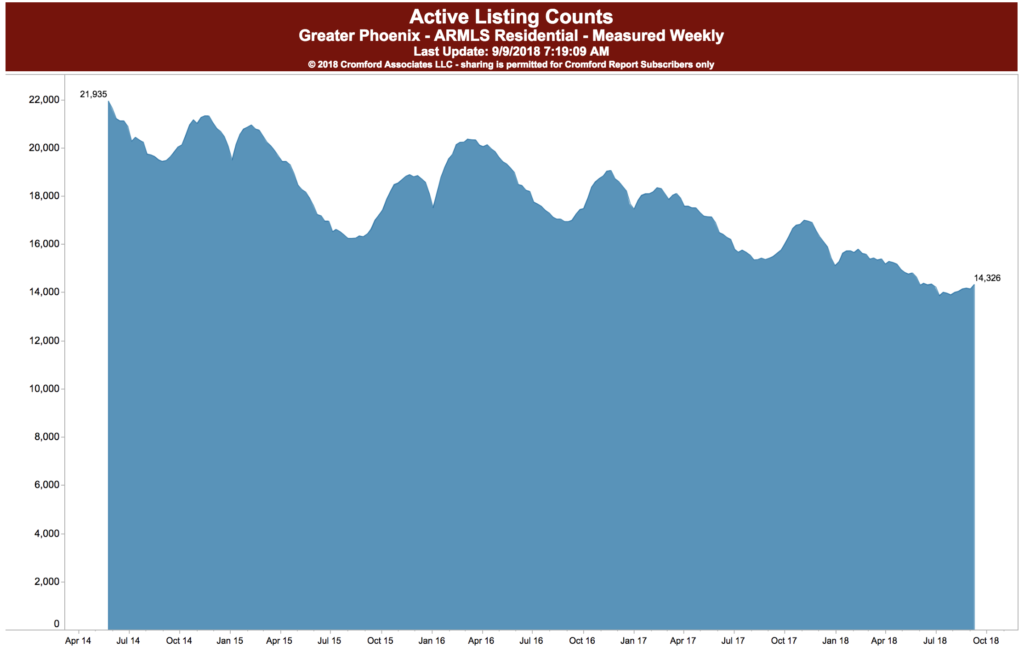 The Early September Market Update from the Cromford Report shows a continued shortage in the market, especially in homes under $250,000, as compared to last year.
Starting with the basic ARMLS numbers for September 1, 2018 and comparing them with September 1, 2017 for all areas & types:
Active Listings (excluding UCB): 16,222 versus 17,486 last year – down 7.2% – but up 3.4% from 15,686 last month
Active Listings (including UCB): 19,831 versus 21,355 last year – down 7.1% – but up 2.1% compared with 19,415 last month
Under Contract Listings (including Pending, CCBS & UCB): 8,871 versus 9,871 last year – down 10.1% – and down 5.5% from 9,384 last month
Monthly Sales: 8,230 versus 8,252 last year – down 0.3% – and down 3.7% from 8,548 last month
Monthly Average Sales Price per Sq. Ft.: $161.10 versus $149.47 last year – up 7.8% – and up 0.2% from $160.76 last month
Monthly Median Sales Price: $262,000 versus $245,000 last year – up 6.5% – but down 1.1% from $265,000 last month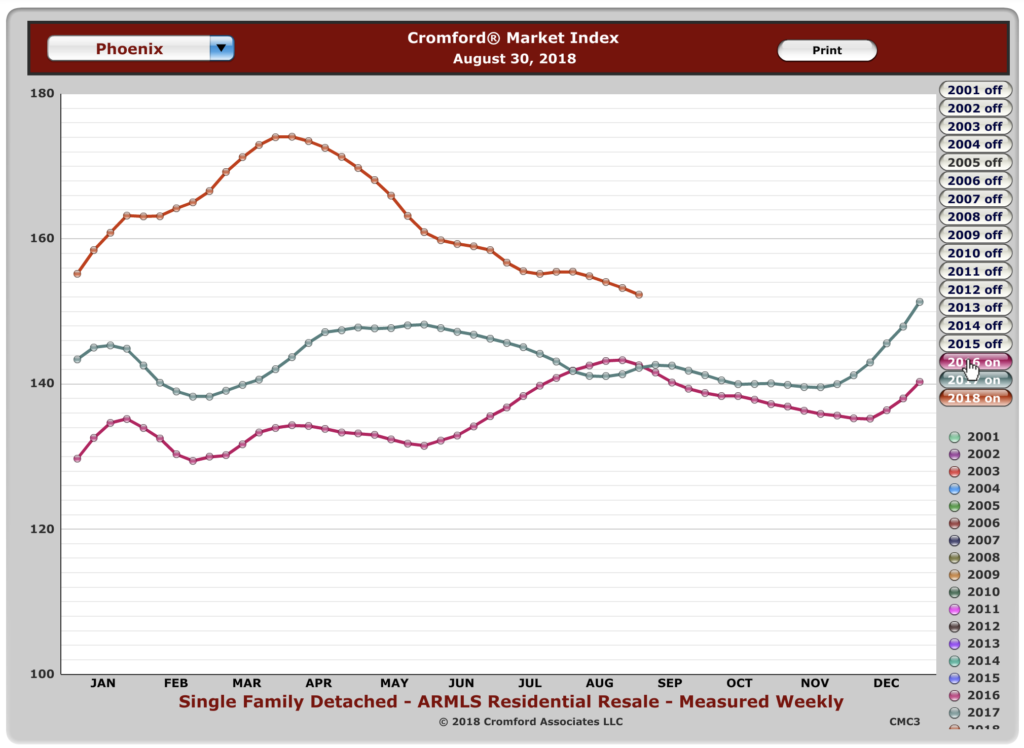 The supply of active listings without a contract rose 3.4% during the month of August, while total active listings increased by 2.1%. These are bigger increases than we saw in August 2017 so there has been a slight improvement in supply even though it remains very low by normal standards.
The count of under contract listings continues to weaken relative to the last 3 years and indicates a gradual reduction in demand. Demand at the low-end of the market cannot be satisfied as the number of available homes below $250,000 is far too low. With supply moving up a little and demand down a little, it is not a surprise to see the Cromford® Market Index lower than last month. It still remains at a significantly elevated level relative to normal, however, and so we are in a strong seller's market.
Pricing is behaving normally for a seller's market with 3Q average and median prices lower than 2Q. We still expect 4Q to hit the high point for the year as any weakness in demand is compensated for by long-term shortages in supply.
If you are looking for more analysis of the market, please call us at 602-456-9388.