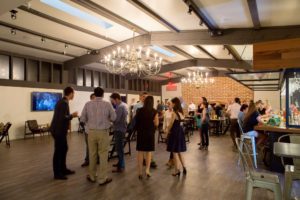 As members of Local First Arizona, we are big fans of supporting locally-owned banks and credit unions.
Not only are the big national banks bureaucratic, slow and detached from our community, we also have a hard time forgiving them for their role in the Great Recession (as well as how they often mis-handled short sales and foreclosures).
Yep. So, many reasons…
Anyway, there is a great way that you can support your community, local businesses and local banks –switch over!
Local first is hosting a Community Banking Month Celebration this month and we encourage you to check it out.
"Local First Arizona invites you to join local banks, credit unions, and local businesses for our spring gathering at The Newton. Financed locally, this adaptive reuse is the perfect spot to meet local businesses, and local banking options! Enjoy drinks from First Draft Book Bar and complimentary bites from Southern Rail.
ABOUT THE NEWTON
An adaptive reuse project by Venue Projects and John Douglas Architects, The Newton is a mixed-use concept housed inside Phoenix's former (but iconic) Beef Eaters building. Named after Beef Eaters' Founder Jay Newton, today The Newton is a place where people can read, dine, gather, and shop. The Newton is home to the Phoenix location of Changing Hands Bookstore,Southern Rail, Southwest Gardener, and Christofolo Schermer Consulting. The Newton is also an event venue, with three private event spaces available for private events and parties.
WHAT TO EXPECT:
The Local First Arizona networking mixers are an excellent way to meet local business community and connect with LFA staff. Meetings are typically held on the third Wednesday of the month from 6:00 PM- 7:30 PM at different local business throughout the Metro Phoenix. We dedicate the first hour to networking, and from time to time include special networking activities, to keep things fresh.
At 7:00 PM we begin announcements, this is when we share upcoming events, organization updates and share news about the local movement. At the end of announcements, we hold a prize drawing, donated by members to showcase their business (local items only and minimum value of $25, please)
Are you new? Need a member benefits refresher? Join us from 5:30PM – 6:00PM for a quick overview of your Local First Arizona membership. Open to new and potential members.
Mixers are open to local business owners, local nonprofits, local charities, other local institutions and their employees. As a courtesy to our host, you must RSVP. For more information email Community Outreach Manager, Kendall Jones at: Kendall@localfirstaz.com