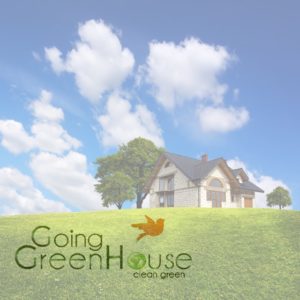 Those of you who know me know that I'm very in to sustainability and protecting our environment. So, I figured its about time that I team up with a locally-owned business to bring you some tips about green cleaning to sell.
My friends at GoinGreenHouse.com are practicing what they preach in house cleaning and I've been impressed with their efforts. And they've got some good tips for you.
So, here is the first of many articles that we've collaborated on. This issue: green cleaning to sell your home. Enjoy.
———
Not many people know this, but you can lose a sale in the first 30 seconds that a buyer is in your home.
You've often heard that cleaning and de-cluttering any room appear more spacious and attractive to the buyer, allowing them to visualize how their own items would fit.
But cleaning works more at the subconscious level, which can be much more dangerous for your sale.
If you don't clean and de-clutter, you are signaling to the buyer a red flag that there may be other things that you are also not maintaining, like the air conditioner or the plumbing.
However, the easiest, cheapest and most-recommended DIY improvement for sellers is to CLEAN AND DE-CLUTTER. It's easy to begin by removing clutter and personal items.
To get the most bang for your buck, you need to focus on the FOUR rooms that buyers are most interested in:
Living Room

Store remotes, magazines, blankets, and other personal items

Dining room
Kitchen

Keep out ONLY appliances that are used every few days, make sure to wipe them clean
Maintain a spotless stovetop and clean, dish-less sink

Bathroom

Scrub grout free of mold and mildew
After each shower, towel dry or use a squeegee to prevent water spots on glass
Clear off countertops of non-essentials and store them in containers
In order to give the overall impression of a well-maintained home:
Dust and wipe all surfaces, making sure not to forget baseboards, windowsills, and fans
Wipe away dirty fingerprints from light switches, doors, handles, cabinet and drawer fronts
Mop floors and vacuum carpets regularly
Polish wood floors to a shine and be sure to clean grout on tile floors
But, don't stop there. If you are going to go through all of this effort, I suggest that you green clean using environmental friendly and heavy chemical-free cleaners.  I've been in homes many times, especially renovations, where the chemical smell is overwhelming.
Buyers are increasingly aware of the negative health impacts of VOCs (volatile organic chemicals) and, just as in the case of an unclean house, it sends a subconscious signal that this space may be unsafe.
If all of these things are maintained on a daily basis, you'll be ready for any buyers that come your way! So, if you are thinking to sell in a few months, or if you just need help, contact April at GoingGreenHouse.com and she will hook you up.
Then, once every couple weeks while the house is on the market, they can help you keep on top of the cleaning chores. This will make it easy to have the house ready for that final walk-through before closing!
And, as usual, if you need help building a successful strategy to sell your home, please contact us at 602-456-9388.